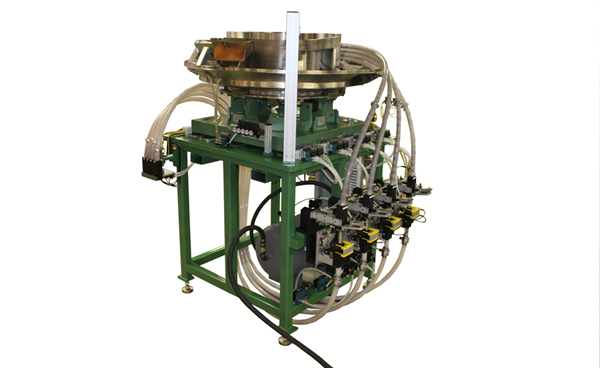 Problem: The customer grinds valve springs for the automotive industry. Two problems were solved with a new vibratory feeder bowl system. Initially, Suncall America contacted Fortville to help them improve efficiencies. They wanted to build a system that would feed the valve springs to a fixed location to automate the loading of the grinding machine. This system needed to feed four lines of parts at 20 parts per minute for each line and move them to four distinct locations. This process would afford the operator more time to perform value added tasks. Fortville supplied a vibratory bowl, four separate gravity tubes, four release mechanisms, a mounting plate with table frame to bring the discharge height to a customer specifications and a Nema enclosure that contained all the controls to successfully execute the cycle of parts on demand.
However, right before the new feeder system was put into service, due to demands in the automotive industry, the specifications on a new valve spring was released. Suncall had to add a second style of spring to their process. The issue was that this new spring was tapered on one end and 100% orientation was a must. Once again Suncall America leaned on the experience of Fortville to see if the new system could be retrofit to feed both parts. Ideally, Suncall wanted to be able to changeover with little interaction from the operator.
Solution: The initial design did not take into account end-for-end orientation as the springs were the same on both ends. With the new tapered springs, orientation was going to be a big issue. The part had to be fed with the correct end towards the grinding machine. Pulling together years of experience and resources, Fortville came up with an orienting device for each of the four lines with the existing system. The customer could make this changeover with the simple turn of a switch. Fortville built four mechanisms into the system that would release the parts one at a time to an inspection area. In this area sensing devices would execute two functions:
Sense that a singulated part is in place to be inspected
Detect if the part was oriented in the proper fashion.
Once the orientation was verified, the release mechanism would either allow the part to continue to its end path or it would turn the part end for end and then release. This ensured the part came to the customer in the right orientation.
Final product was delivered to the customer in May of 2014.