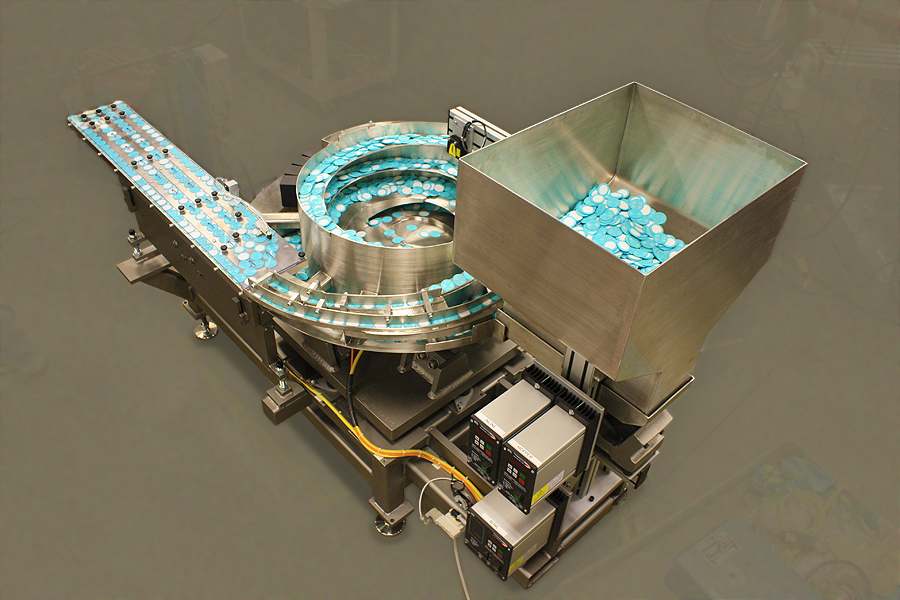 Introduction: An integrator located in Montreal, Canada needed a manufacturer to both produce and provide service on vibratory feeder systems. Even though the integrator typically does all of their own parts feeding systems on the automated machinery they produce, they do not specialize in vibratory feeder systems. Despite being at a disadvantage in the Canadian-to-U.S. dollar currency exchange, they turned to Fortville Feeders for both their expertise in vibratory feeding design and fabrication, but also because they have an international service reach. Many U.S. based parts feeding manufacturers will not cross international borders to work on machinery. Fortville was different.
Problem: The customer was building an assembly system that applied a small, high-density polyethylene panel on one side of a humidity-control disc. They needed a high speed feeder system that would deliver the parts at a rate of 240 ppm down four lines. However, they had very limited space for a large feeder bowl.
Solution: Limited space issues are nothing new for Fortville. They engineered a solution that used the feeder bowl's capacity coupled with a long, inline approach to solve the space issue without compromising the feed rate. They designed a vibratory system that fit the footprint of the space the customer had specified. The single vibratory bowl oriented the discs and fed two lines of the products to a four-line track. The track was covered with a Lexan acrylic and used pressurized air to move the merging parts into one of four lanes.
Fortville Feeders was not only able to design and build a feeder system that met the customer's specifications, they also provided support for the new system. This included 3-D schematic drawings, manuals, parts support throughout the lifetime of the machine and service, even in Montreal.