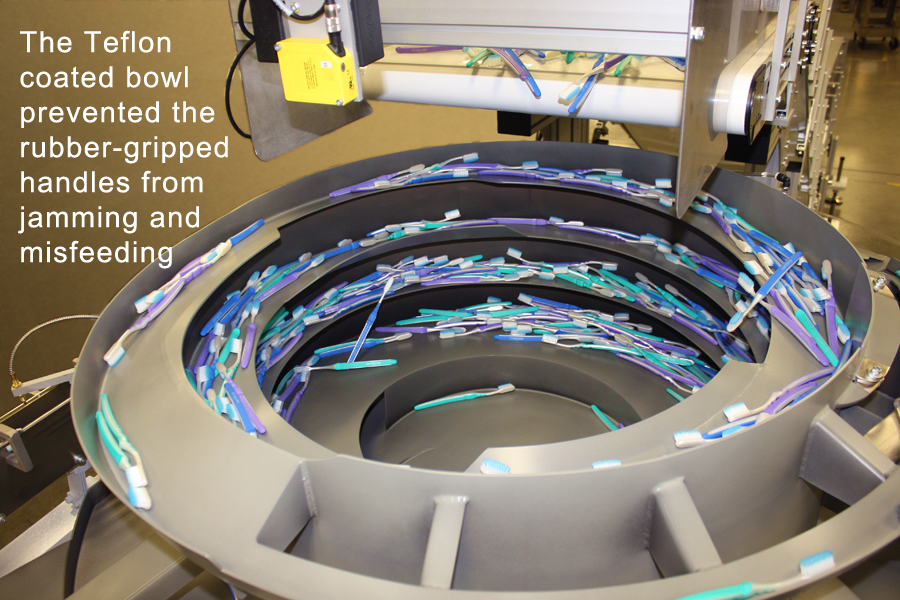 Problem: A manufacturer of toothbrushes had six different styles of toothbrushes, each with an ergonomic handle with soft rubber finger grips. They were looking for a feeder system that would sort, orient, and move the product to their laser etching and packaging assembly machines. They also needed a feeder system that could be easily changed over from one brush style to the other. The problem with moving the product to their packaging equipment was found in the rubber grips. They had a tendency to catch and drag across metal surfaces. The grips were so effective at increasing friction that they wouldn't slide down the bowl tooling, causing misfeeds and jams. To further complicate matters, the design of each handle was different, so some brushes would naturally ride on slick plastic portion of the handle and others on the rubber grip.
Solution: The Fortville Feeders design team discussed several options to resolve the misfeed and jamming issues. These possibilities were communicated to the customer. There was a delicate balance between too much and too little friction. Too much friction meant that the tooling wouldn't work, causing jams and misfeeds. Too little wouldn't allow the parts to feed up the bowl. They chose an FDA-approved, Teflon spray-on coating that brought the coefficient of friction into the needed range for all six toothbrush designs. Fortville also used a 316 stainless steel on the vibratory bowl, track, and returns to conform to the FDA corrosion requirements.
The bowl was fed by a bulk hopper with a live belt elevator. The live belt was found to be the best way to move the loose product, as the height of the loading area was low to the floor, which made it easy on the operator to fill the hopper. The vibratory feeder bowl was 42 inches in diameter to handle the long geometry of the brushes. The system oriented the brush end of the toothbrushes up and the bristles pointed down. Fortville built a dead nest at the end of the line where the customer's packaging automation took over.
Fortville was able to design a feeder system that allowed the rubber-handled toothbrushes to move freely down line and oriented them for the next step in the packaging process. It accommodated all six styles of brushes without any downtime for changeover.