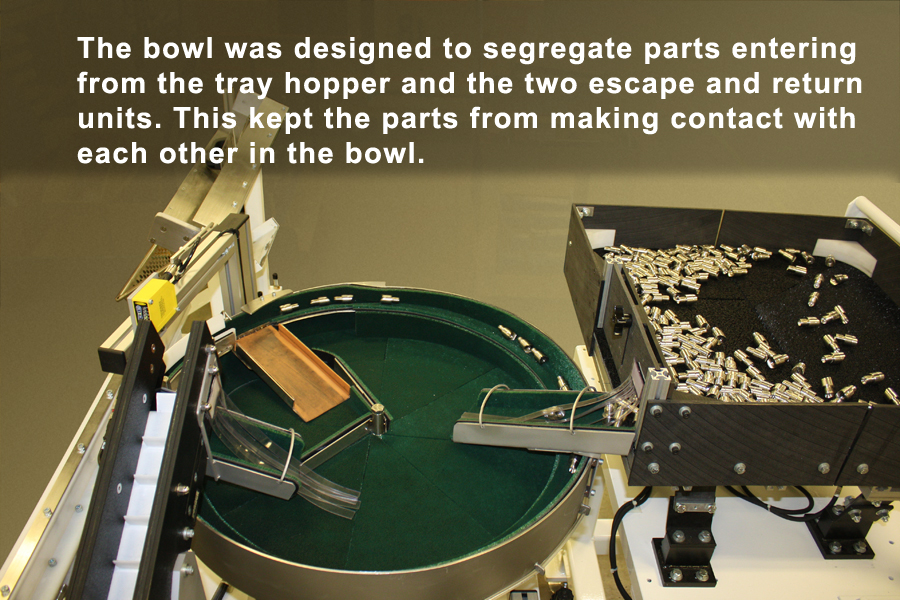 Problem: The customer was an integrator who was looking to replace a feeder system for a three-part automation system. The parts were constructed of steel, but were all dissimilar in geometry. The old system used three separate feeder bowls. It was the desire of the customer to consolidate the system to one feeder bowl. It was also important that the parts did not make contact with each other as they moved from the hopper to the bowl to eliminate scratching and marks.
Solution: Fortville engineers are no strangers to the gentle feeding of parts, even those that need to be delivered at a high speed. They designed a system that used a low-profile tray hopper with a Brushlon™ bottom to keep parts from being scratched as they are being loaded. The feeder bowl was also lined with Brushlon™, which served to cushion the parts as they moved, but it also provided direction. The Brushlon™ was angled to quickly move each part to the perimeter and out of the way of the next part to enter the bowl. This ensured there was no part-to-part contact as they transitioned from the hopper to the bowl.
Mis-oriented parts were returned to the bowl via two return shoots. These parts were segregated from the others in the bowl and cushioned as they were moved. The tooling oriented the parts standing on end and moved them down an inline track to be delivered to the customer's conveyor system. Fortville's engineers designed a drop out escapement in the track that slowed each part's descent and gently placed it in a compartmental conveyor that returned it to the bowl.
Fortville was able to meet the demands of the customer. The single bowl feeder system was able to handle all three parts. The system protected parts from touching in the bowl and it fed up to 95 ppm.